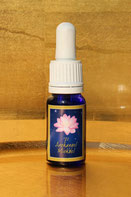 This essence carries the light of Archangel Michael with his sword of light. It activates a fire of transformation that nothing can resist. This fire burns down limiting structures, resistance and self-denial and is very liberating. It starts a process of total cleansing and purification. Wherever internal or external circumstances have become stuck and there seems no way out this essence brings the solution so that the transformation can unfold. It penetrates all illusion and brings clarity.
Daily application in June: 
Place the bottle between your feet for a moment.
Slowly lead the essence in front of your body upwards till above the head.
Apply one drop on each chakra (from lotus chakra to base chakra) and on both knees.
Lead the essence along the spine (from bottom to top).
Lead the essence clockwise with 10 – 20cm distance to the body around each chakra, starting with the brow chakra and finishing with the base chakra.
Apply one drop on your feet (bridge of your feet) and one under your tongue.
Application Details for Archangel Michael
06.2016 english.pdf
Adobe Acrobat Document
649.0 KB