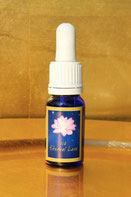 This essence contains the energy of eternal love, the original source of all that is. Eternal love is the original essence of creation. Eternal Love essence carries this all-penetrating love energy. It brings healing, and completeness, sustained by the endless love of the Divine Mother. This essence lets you dive into your own bliss. 
In connection with the original source, it is possible to awaken and strengthen new qualities in the heart chakra and make these available to Earth. It awakens and strengthens the unconditional love in your heart chakra. From there it flows into all areas of your life. Eternal Love brings new levels of healing.
Daily application in January:
Hold the essence with your arm stretched above your head, then slowly move it downwards to your heart chakra, where you draw a circle around your body.
Then continue to the lower three chakras, where you repeat the circle. Do the same around the knees. Then place the bottle between your feet. 
Then move the essence upward and do the circles around the throat and brow chakra. 
Place a drop onto each chakra (top to bottom) and onto the back of the feet. 
Rub three drops between your hands and place your hands onto your kidneys until the energy has been taken up.
Place a drop each onto the floor in front, to the right side, to the back and to the left side of yourself. Let love flow in this field of Eternal Love.
114 Eternal Love - Starlight Essence January 2017
Application Details
01.2017 english.pdf
Adobe Acrobat Document
635.0 KB