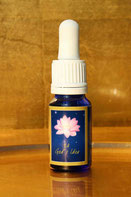 God's Idea connects you with your divine guidance and divine visions. It
harmonises your thoughts with your own divinity so that impulses from the
divine levels can announce themselves at once. The light of this essence
permeates the entire mental body. This essence is also supportive in your
meditation as it clarifies and illuminates your thoughts, so that impulses from the divine level can unfold in your heart chakra.
New Levels 2012
God's Idea brings you into contact with the divine throne and grants you visions
for your own life and for Earth in the heart chakra age. It grants insights into life
in the Golden age. It supports the synchronisation between your will and the
divine will thus strengthening your manifestation power. 
Daily application in March:
Place a drop of the essence onto the lotus chakra, the brow chakra, the heart chakra and both temples.
Lead the bottle in a distance of 50cm first around your head and then around your heart chakra, in a clockwise direction.
Then repeat step 2 with a distance of 5cm.
Take one drop orally, one drop onto your throat chakra and one drop onto each knee.
Place one drop onto thumb and index finger of each hand, taking them together. You place the left pair onto your coccyx and the right pair onto your atlas, keeping your fingers in place until the energy channel of your spine has been flooded.
Place the bottle between your feet and meditate for 5 minutes.
24 God's Idea - Starlight Essence March 2017
Application Details
03.2017 english.pdf
Adobe Acrobat Document
635.8 KB