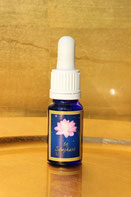 Symphasis helps to co-ordinate the high frequencies of light and information that are coming in from the cosmos. It brings inner order into the energy bodies and stimulates a common harmonious flow. Especially now that so much new wants to come through for everyone into their own lives, the essence is especially supportive since it helps in creating new resonances for these light levels. Symphasis brings clarity to your perception levels, so that new skills and accesses can be used more consciously. 
New Levels 2012
Symphasis promotes the clear recognition of the different light levels which
want to come into your life. It supports clear coordination and enables a flow.
Daily application in April:
Hold the bottle with your arm stretched above your head for one minute. Then take it to 10cm above the lotus chakra and then from there slowly move it down the front of your body along the chakras, finally placing the bottle between your feet.
Take the bottle up again, making a clockwise circle around the body for each chakra as you go up. (From root to brow chakra).
Place a drop of the essence onto each chakra (lotus to root chakra), both knees (front and back), both shoulder points (GB21), both elbow folds and the tongue. 
Place one drop onto the left and right thumb and index finger together, and holding them together place them onto the start and end of your spine, so that you flood the energy channel. Alternatively, you can lead the bottle from the bottom to the top along your spine.
89 Symphasis- Starlight Essence April 2017
Application Details
04.2017 english.pdf
Adobe Acrobat Document
636.0 KB