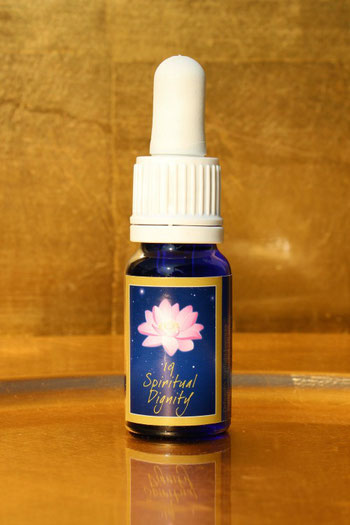 Spiritual Dignity illuminates the emotional body and aligns it to the spiritual worlds.
It invites higher vibrations and divine energies into your emotional body to fill you completely.
Spiritual Dignity helps you to take responsibility for your emotions and to stop taking on other people's energy or the vibrations of the collective consciousness. This essence lifts you up beyond human limitations in order to reconnect you with the cosmic energies of joy and bliss.
Daily application in January:
Hold the bottle in the distance of 50cm in front of the heart chakra, solarplexus chakra, sacral chakra and root chakra and then in front of the throat chakra, brow chakra und lotus chakra, each time as long as it takes for the energy to flow through.
Apply 1 drop with your hand flat on the front and back of each chakra  (from root- to lotus chakra)
Give 1 drop into your mouth, as well as on both shoulder joints, hip joints, both knees and both ankles.
Lead the bottle in the distance of 50cm slowly around your head.
19 Spiritual Dignity - Starlight Essence January 2018
Application Details
01.2018 english.pdf
Adobe Acrobat Document
630.9 KB