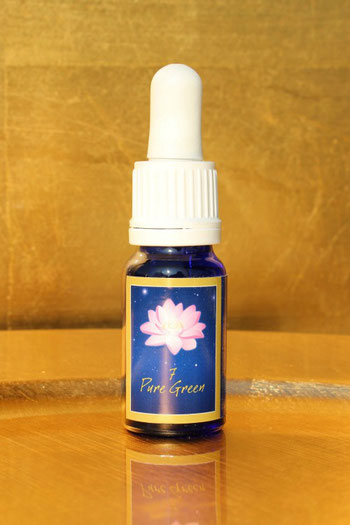 Pure Green fills the heart chakra with the pure light of the heart chakra of creation. The heart chakra is the place from which unconditional love, as well as healing, manifests. It is the place where the truth is found; and it allows you to understand yourself as a co-creator.
Pure Green removes blockages from the heart and frees unconditional love, helping you to bring heaven and Earth together in your heart's centre. There you can experience yourself as a pure being, beyond time and space. Pure Green helps you to find love within yourself and to share it.
Daily application in February:
Put 3 drops into your right hand, make a clockwise circle on the ground (move your hand 3 times) and stand or sit in the circle. Put 1 drop into your mouth and onto your heart chakra.
Rub 2 drops between your palms, stretch your arms to the front with your palms facing the body. Move them slowly back to the astral heart chakra and hold them there for a moment. Stretch your arms to the sides and moves them slowly back to the sides of your chest (astral) and hold them there for a moment. Place your hands on your physical heart chakra and leave them there for a while.
Hold the bottle for a while on the left side (45 degree) in a distance of 40-50cm of the heart chakra. This brings healing into the emotional body, awakens new resonances for the creation levels of the heart chakra and strengthens the heart. Stay within the circle for 5 – 10 minutes until the energy flow is complete.
7 Pure Green - Starlight Essence February 2018
Application Details
02.2018 english.pdf
Adobe Acrobat Document
626.0 KB