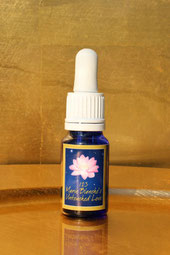 Marie Blanche's Untouched Love connects you with the most perfect heart chakra energy. It aligns your heart to the greater dimensions of the cosmos that are waiting to be manifested in the coming decades. The pure white light of this essence touches you in your inner core. It brings an awakening and awareness of your own heart chakra creation levels. 
Daily application in June:
Lead the essence with your arm stretched above your head slowly toward your lotus and then down the front to your heart chakra, where you rest for a moment. 
Hold the essence with your arm stretched in front of your heart chakra and then lead it slowly toward your heart chakra. 
Lead the essence in the astral body clockwise around your heart chakra. 
Place one drop onto your heart chakra.
Place a drop each into the four directions 1 meter away from your body. Rest in this field for a few minutes, expanding your light and love. 
123 Marie Blanche's Untouched Love - Starlight Essence June 2018
Application Details
06.2018 english.pdf
Adobe Acrobat Document
634.0 KB
123 Marie Blanche's Untouched Love