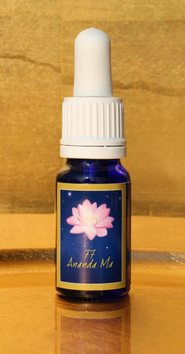 Ananda Ma connects you with the eternal bliss of creation. It awakens the memory that this is the original state of divine being; it is the natural home of the soul. There are no words to describe this blissful happiness as earthly happiness cannot compare. Ananda Ma penetrates all layers filling you completely with eternal bliss so that you may bring it into your life; and it helps you to experience the flow of your own divinity in each moment through your connection with oneness. 
Daily application in September:
Rub three drops of the essence between your hands and spread your arms above you to receive the energy from Heaven. Then slowly move your hands downwards to your shoulders and from there to your heart chakra. Move your hands slowly toward your physical heart chakra (the right hand lies on top of the left hand) and leave your hands there until you have taken up the energy. 
Then place your hands onto your hip bones, then onto your kidneys and finally on your knees. 
Place one drop of the essence each onto each chakra (from root to lotus chakra) and then onto the shoulder points (GB 21). Then place your hands to the opposite shoulder crossing them and tap them with your three middle fingers. 
Finally place one drop of the essence onto the back of your feet and one in your mouth.
77 Ananda Ma - Starlight Essence September 2018
Application Details
09.2018 english.pdf
Adobe Acrobat Document
634.1 KB