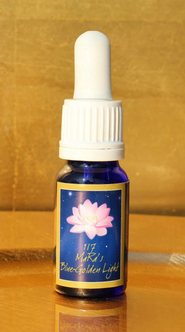 MaRa's Blue-Golden Light carries the energy of MaRa, Mother of Light, in its purest form. It connects you with your own divine ray of manifestation. It enables you to find peace and to bring heaven to Earth. This essence supports you in taking your true place and surrendering to the eternal cycle of the Divine Mother. It brings the comfort of the Divine Mother that comes from following the natural flow. MaRa's Blue-Golden Light gives you the confidence to follow your path without wavering. 
Daily application in October:
Place one drop onto your root chakra (back and front). Then rub one drop between your hands and stretch your arms to the sides. Remain there for a moment, then slowly lead your hands back towards your root chakra. 
Repeat this for the other chakras: sacral chakra to lotus chakra. At the lotus chakra just place a drop onto your head and then move your hands like with the other chakras. 
Finally place one drop each into your mouth, onto both knees and under both feet. 
117 MaRa's Blue-Golden Light - Starlight Essence October 2018
Application Details
10.2018 english.pdf
Adobe Acrobat Document
635.0 KB
117 MaRa's Blue-Golden Light