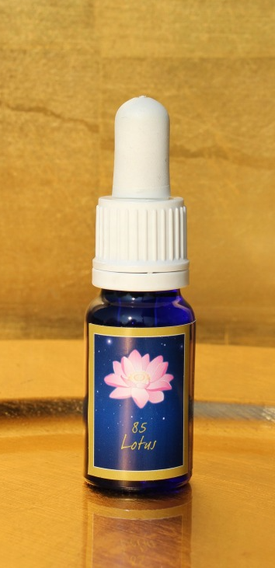 Lotus gives transformation, liberation and healing. It aligns you with your own starlight and helps you to bring your own divine light and guidance into your life. It raises your vibration and penetrates all of your energy bodies aligning them with the divine light and your own heaven. This essence grants protection and comfort during times of transformation. It raises your own vibration as high as is tolerable.
Daily application in August:
Place one drop of the essence onto your lotus chakra. Then place one drop each onto the front and back of your brow chakra, throat chakra and so on til the root chakra. Then one drop onto both knees, both feet, both shoulder points (GB 21) and into the mouth. 
Rub three drops between your hands and place them onto your kidneys. Keep your hands there until the kidneys have taken up the energy. Then bring your hands along your body to the front, so that they lie to the right and left of your belly button. Keep your hands there until the energy has been taken up.
Place one drop into your right hand and make three clockwise circles around your belly button (physically).
Rub three drops between your hands and place your hands on spleen and liver. Keep them there until the flow in your body has been established.
---
85 Lotus - Starlight Essence August 2019
Application Details
08.2019 english.pdf
Adobe Acrobat Document
631.8 KB
---