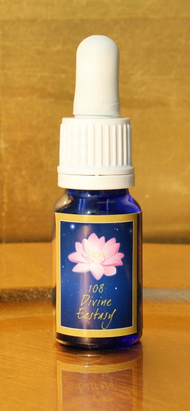 This essence carries the energy of divine ecstasy which is an expression of the coming together of guidance and devotion. In this fusion the energies of creator connect with creation. In this moment divine bliss emerges. This ecstatic light leads to the release of creation impulses which penetrate and connect all levels. This is the dynamic energy of the creative act which finds its expression in divine ecstasy. This abundant endless power of light is released and you experience the creation of your own light. In this release of light you can dive into complete happiness. It penetrates all cells, all energy bodies and your whole being trembles from the interaction of these divine forces. The dynamic light presence is kindled and becomes alive and vibrant. Shiva and Shakti in the cosmic dance of unity. Krishna and Rada. Perfection in bliss. 
Daily application in November:
On the front of your body, slowly lead the essence from the bottom upwards (base to lotus chakra).
Then make a clockwise circle around your head and then around your throat. Then make a clockwise circle in the astral body in front of your heart, solar plexus, sacral and base chakra. Then make a clockwise circle around your body at the level of the base, sacral and solar plexus chakra. Then hold the essence a moment in front of your heart. 
Place one drop each onto the chakras (lotus to base chakra), both knees, the back of your feet and into your mouth. 
Place one drop into your hand and make a clockwise circle on your belly.
Rub three drops between your hands and place your hands onto your kidneys. Keep them there until your kidneys have taken up the energy.
---
108 Divine Ecstasy - Starlight Essence November 2019
Application Details
11.2019 english.pdf
Adobe Acrobat Document
632.6 KB
---