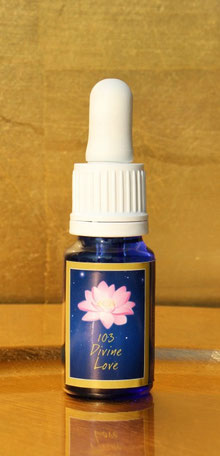 This essence lets you be carried by divine love. This divine love sets no conditions and exists in the heart of every being. It embraces and carries all. This essence is the primordial presence of the Divine Mother in all creation; she gives birth to and nourishes all life. This essence fills the need for attention and love. It contains the purest vibration of love which unites all worlds; and brings deep healing and the experience of being carried and supported. In the divine love, there is no separation, all is complete. 
Daily application in July:
For every chakra (from root to lotus chakra) rub 1-2 drops between your hands and hold them astrally in front of each chakra; then bring them out to the side where you hold them for a moment before bringing them to the back. Then hold your hands in the emotional body in front of the same chakra; then bring them to the side and hold them there until the energy has been taken up by the backside of your emotional body. 
Place one drop each onto the middle of your head, both knees and the backs of your feet.
Rub three drops between your hands and place them physically next to each other on your heart chakra; wait for the energy to be taken up. Then place your hands onto the areas of your body that are calling out.
Finally place one drop into a glass of water and drink it.
---
103 Divine Love - Starlight Essence July 2020
Application Details
07.2020_en.pdf
Adobe Acrobat Document
631.6 KB
---