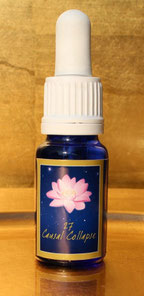 Sometimes you get into situations in your life where the karmic patterns are affecting you so deeply that you feel completely stuck. In these situations Causal Collapse brings you back into alignment and helps you to find solutions and see the way forward. When you have lost your way and nothing seems to be working this essence will touch you deep within your core and the way forward will show itself. Causal Collapse clears the situations on the karmic level and this then allows solutions to appear and manifest in the outer level. Causal Collapse strengthens your inner core of light. 
Daily application in January:
Place one drop each with your arm stretched out to the front of you, to the right, the back and the left and between your feet. 
For the base, sacral and solar plexus chakra, bring the essence from the front, having stretched your arm out, slowly to the chakra. Then place a drop onto the front and back of the chakra. 
For the heart, throat and brow chakra, bring the essence, having stretched your arm out, from the front, the right, back and left to the chakra and then place a drop on the front and the back of each chakra. For the lotus chakra additionally bring the essence from the top to the chakra and place a drop there. 
Place one drop each onto both knees and into your mouth.
---
27 Causal Collapse - Starlight Essence January 2022
Application Details
01.2022_en.pdf
Adobe Acrobat Document
506.9 KB
---