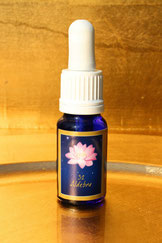 Aldebra carries the light information of the light bodies. It helps you to integrate your own starlight into your incarnated body. It is like a light template through which your qualities and potential can connect with your physical being. It activates new resonances for your own starlight and reconnects you with it. This allows an adaptation between your physical body and your own light levels. Aldebra enhances the synchronisation between your own vibration with the high frequent light vibrations of your own light being. Aldebra balances dissonances and disrupted communication. 
Daily application in July:
Hold the bottle above the head with the arm outstretched and slowly bring it down from there to the astral lotus chakra. There you make a clockwise spiral.
Apply 1 drop on each of the chakras from lotus to root chakra, on both knees, on the back of both feet and on the shoulder points (GB21). 
Rub 3 drops into your hands and place them on both kidneys. 
Move the bottle astrally at root chakra level clockwise around the body, the same for navel, solar plexus and heart chakra; for neck, forehead and lotus chakra make the circle at a distance of 30-40cm around the body.
Place 1 drop between the thumb and index finger of each hand and place the left on the tailbone and the right on the atlas, flooding the spine channel.
Finally, put 1 drop in your mouth or in a small glass of water and drink it slowly.
---
32 Aldebra - Starlight Essence July 2022
Application Details
07.2022-eng.pdf
Adobe Acrobat Document
621.7 KB
---