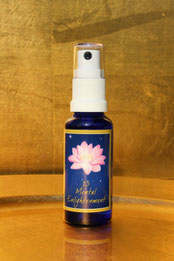 This month it's a spray. Mental Enlightenment realigns you with your own higher guidance. It clears the way for inspiration and intuition to come through; thus helping you to achieve your personal growth and goals. Mental pathways are opened up again and you come into contact with your dreams, visions and ideas, ensuring they are not nipped in the bud before they have had a chance to manifest. 
When you get stuck in your daily problems you lose touch with your higher guidance, you may have many ideas, goals and ambitions for your life but if these things fail to materialise you may give up and focus solely on the outside world rather than aligning yourself with your inner knowing and your spiritual guidance. Mental Enlightenment paves the way for you to reconnect with, and realign yourself back to, your higher purpose. Mental Enlightenment can break through the engrained patterns which have built up on Earth collectively and which are maintained by society. 
Daily application in September:
1. Spray twice 50-60cm above your head.
2. Spray in the same distance clockwise around your head.
3. Spray twice in front of your forehead and back of the head.
4. Spray twice in front and at the back of your heart chakra. 
5. Spray twice in front and back of your root chakra and on your feet.
6. Spray with your arms stretched on heart chakra height around the body.
7. Meditate in silence for 5 minutes. 
---
23 Mental Enlightenment - Starlight Essence September 2022
Application Details
09.2022_engl..pdf
Adobe Acrobat Document
626.9 KB
---