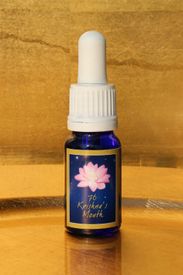 Krishna's Mouth connects you with the qualities of Krishna who inspires and unites all realms with his joy and his singing; and through these gifts he brings into manifestation new worlds of light. This essence invites you to be part of this cosmic creation by bringing lightness into your body and supporting you as you expand and merge with God. Krishna's Mouth lets you experience the divine praise that exists as sound in all worlds. It allows access and connection to your individual soul sound; and helps you through sound to share your light. It is supportive when expressing devotion through songs and mantras. 
Daily application in November:
1. Apply 1 drop each to the throat, heart, forehead and lotus chakra and to both knees. 
2. Lead the bottle astrally and clockwise around the neck and then at a distance of 50cm.  
3. Do the same at heart chakra level around the body. 
4. Give 1 drop each on the root, navel and solar plexus chakra. 
5. Put 1 drop each on thumb & index finger together and hold the tailbone with the left fingers and the atlas with the right fingers and let the energy of Krishna's Mouth flow through the spinal light channel.
6. Finally, put 1 drop into a small glass of water and drink it.
---
76 Krishna's Mouth
Application Details
11.2022_engl.pdf
Adobe Acrobat Document
628.4 KB
---